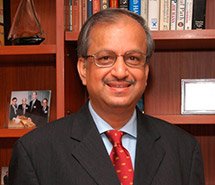 Former ED and Group CFO, Mahindra and Mahindra
BHARAT DOSHI
Bharat Doshi, former Executive Director and Group CFO of Mahindra & Mahindra, is presently a Board member of several companies. He is on the Board of Mahindra United World College of India and is a Trustee of K.C. Mahindra Education Trust and Mahindra Foundation. Mr. Doshi was nominated as a director on the Central Board of Directors of the Reserve Bank of India in March 2016 for a term of four years. In August 2020, at the invitation of LeapFrog Investments, Mr. Doshi has joined the Global Leadership Council of LeapFrog Investments, one of the leading impact investing firms.
He has been on the Board of Governors of the Indian Institute of Management, Tiruchirappalli, and has been President of Bombay Chamber of Commerce and Industry. He has been a member of RBI's working group to examine emerging issues pertaining to regulation of NBFC sector, member of RBI's Committee on Comprehensive Financial Services for small businesses and low-income households, member of the High Powered Expert Committee of Ministry of Finance, Government of India, on Making Mumbai an International Financial Centre and member of SEBI's Committee on Disclosures and Accounting Standards. He has been a member of the CII National Council on Corporate Governance & Regulatory Affairs. He is a Fellow of the Salzburg Seminar on 'Asian Economies: Regional and Global Relationships, and in October 2017 he participated in the Salzburg Global program "The Courageous Director: Can Corporations Better Serve People, Planet and Profit?".
He has won several awards for his exceptional performance and achievements.