Corporate Governance Demystified
Excellence Enablers Private Limited
A series of interfaces with the entire range of stakeholders of Corporate Governance, has given rise to a number of questions, issues, concerns and, happily, some suggestions and solutions. In each issue of this monthly newsletter, we will be getting two experts to articulate their thoughts on a specific topic. The seventh issue is now with you. Needless to add, we welcome your feedback.
Editor
REGULATORY IMPACT ASSESSMENT - PRETENCE AND PRACTICE

M. Damodaran
Chairperson, Excellence Enablers
Former Chairman, SEBI, UTI and IDBI

Rama Bijapurkar
Thought leader and Management
Consultant
Solutions and their problems
"She who plays the piper calls the tune." Try saying that to the hapless investor, depositor or similarly placed recipient of a service in the financial sector, who, instead of calling the tune has been led a merry dance in the name of laws, rules and regulations purportedly written in her interest.
Regulatory organizations and regulations exist in order to create a level playing field so that persons suffering from information asymmetry are not disadvantageously placed. However, regulatory hyperactivity seen the world over in recent times, has often caused bewilderment rather than conferred benefits. Nearly every crime or misdemeanor is being responded to in kneejerk fashion with a new regulation. The guiding motto appears to be "regulate in haste, amend at leisure". The fact that compliance has a cost, and that the tab is picked up by the person in whose name regulations are written, seems to escape the attention it deserves.
To ensure that regulations are pragmatic and are designed to address an existing problem rather than to create a new one, a Committee setup by MCA (Disclosure: I chaired the Committee) recommended that every authority, tasked with the function of writing regulations, should have within it a Regulatory Preview Authority to ensure a considered regulatory response to a perceived need. This will address the "flow" problem of unnecessary regulations, even as the "stock" of existing regulations gets reviewed. The sad truth is that there is no shortage of laws, rules and regulations in this country or anywhere else. What is missing is the ability or willingness to quickly and effectively use these legal and regulatory provisions to bring wrong-doers to book. The need of the hour is less regulations and more regulation. To facilitate business, we should take care not to throw out the baby with the bathwater.
Slow burn, unlevel playing field
There are three criticisms that are frequently levelled at regulators by those that they regulate:
(1) that they go after violations of the medium and small guys on whom they practice their regulatory dharma while turning a blind eye to what the really big fish are doing,
(2) that they are the God of small things, and way too prescriptive about matters relating to the operations of the entities they regulate and
(3) that they are totally enthused with their developmental role and it is here that instead of incentivising conscious capitalism or creating an well designed space for those business models that can serve poorer consumers profitably, they insist on everyone in the  private sector doing their bit of business philanthropy. All these criticisms are valid, and apply in different degrees in different combinations to all regulators, but the first one of not evaluating  everyone with the same yardstick is the one that undermines faith in the regulatory system.
However when viewed over a longer term period, we can see that insistent persistent regulators have positively impacted the discourse in board rooms and with managements, even if it fear driven – causing a slow change for the better in more prudent and more ethical business practices, as well as better governance processes. Behavioural theory psychologists hold that behaviour change if sustained will eventually lead to attitude change. This, in my experience, is already beginning to happen in many places.
Is the cost of regulatory compliance very high? That is actually far less of an issue, as I see it, than the trust in the regulator or the transparency of the regulatory system.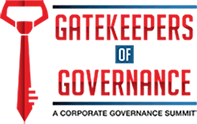 GATEKEEPERS OF GOVERNANCE
A Corporate Governance Summit
The Third annual two day Summit, GATEKEEPERS OF GOVERNANCE, has been planned as a series of sessions which seek to address different aspects of Corporate Governance on the basis of the experience of the last few years. The increasing acceptance of Corporate Governance practices as value enhancers on a sustainable basis has to be advocated and driven by persons who see themselves as change agents on a mission. They are the true Gatekeepers of Governance, in that they facilitate the acceptance and adoption of good practices while keeping out what is undesirable and unproductive. This Summit is a clarion call to the Gatekeepers of Governance to spread the message that good governance is a necessary condition for sustained performance in increasingly competitive times.
Date: 17th – 18th November, 2016Venue: Hotel Trident,
Bandra Kurla Complex, Mumbai
For more information, please visit www.excellenceenablers.com
  Do let us know of any specific issues you would like to see addressed in subsequent issues.
Excellence Enablers
Corporate Governance Specialists | Adding value, not ticking boxes | www.excellenceenablers.com